"We cultivate particularly feeling for material and space…Basic Design is a forming out of material, which demonstrates the possibilities and limits of materials. This method emphasizes learning, a personal experience, rather than teaching. And so it is important to make inventions and discoveries…"
Josef Albers
June, 1934
PROGRAM
Online Workshops
This is a series of workshops dedicated to dealing with the different technical aspects and skills that will allow us to use folding and also cutting as elements of creation and design of flexible and motion-generating structures.
These workshops are aimed at anyone interested in exploring the potential of the "fold" element as a work tool. From designers, architects, scientists, bookbinders and paper lovers to teachers and educators who would have a versatile resource in their teaching processes.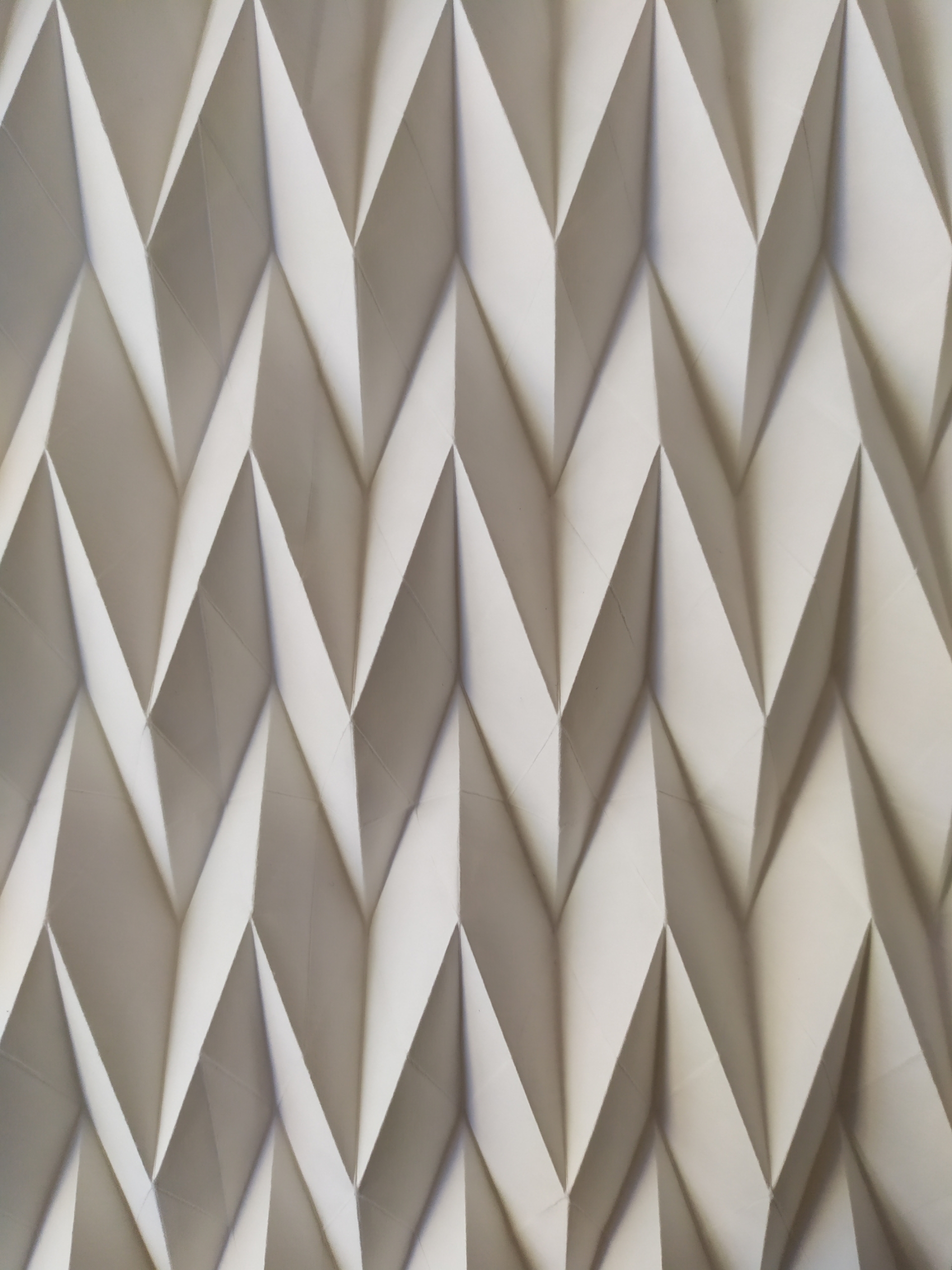 Workshop no.1: Introduction to V-Folding
It introduces us to the basics of folding structures through one of the most known and used folds, the V-fold. This type of fold clearly shows the fundamental principles of folding, which is applied to paper, but also allows us to export its behaviour to other materials, such as fabrics, plastics, metal, etc.
The course starts with a basic knowledge of any folding process and then moves on to the geometry and construction of V-folds. Specifically in one of them.
Methodology of work
The workshop is structured in two phases:
1.- Individual preparation:
Composed of 8 videos that describe step by step, each of the exercises to be performed and that will guide the learning process. These exercises are aimed at developing the manual ability to manage the material in the creation of folds and to understand how the process of transforming the sheet from its two-dimensional to three-dimensional state works.
The videos will be accompanied by a document (PDF) with proposed exercises to be carried out before participating in the online tutorial.
This phase will begin once the participant has registered for the course.
A minimum of 7 days is recommended for this stage of preparation.
2.- Online Group Tutorial:
One session of online tutorial with a duration of one hour on the Meet platform in small groups of five people.
This tutorial is designed to follow "closely" the work developed during the preparation phase, to clarify doubts, give advice, and go into some aspects in depth.
The lesson will begin with a short presentation with historical details of the folding structures' use.
Content
Folding terminology and material
Dividing paper
Geometry of V pleat
Construction of V pleat
Multiple V pleat
Price includes: videos + theory supplement and exercises (PDF) +  1 online tutorial: 55€

Materials
– White printing paper 80 gr. Format 21 x 21 cm
– Quantity: 15 sheets

Online group tutorial ( one session to choose)
Dates will be available soon.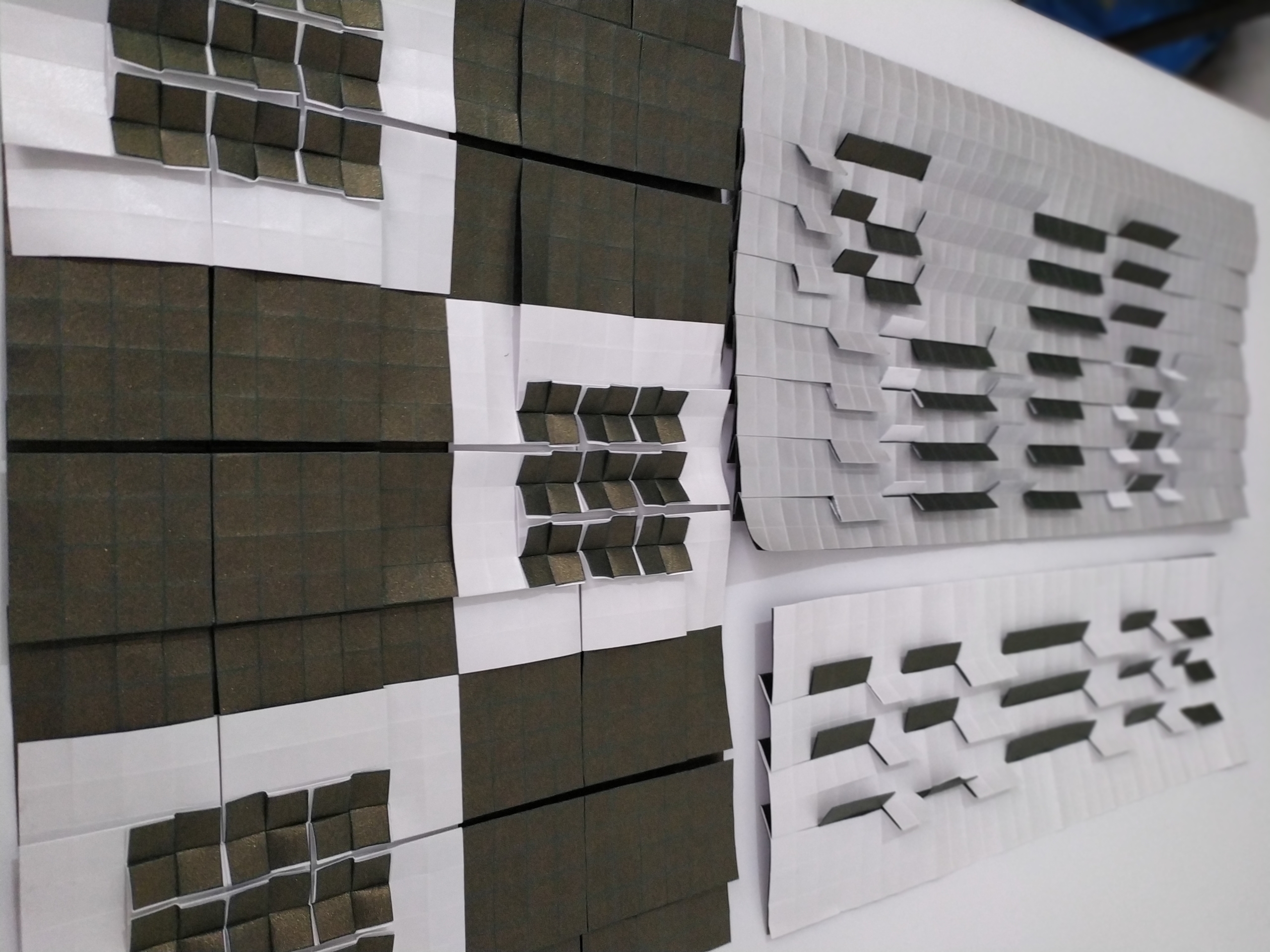 Fold and cut as tapestry technique
In this masterclass, we will explore the three-dimensional potential of paper.
The sheets will be a kind of frame in which we use several interventions to make three-dimensional surfaces inspired by the Andean tapestries.
All the experiments will end in your own paper with a 3d surface.
Date: Thursday 11 t/m Saturday 13 March 2021
Place: Bindery Wilgenkamp, Blokker (Hoorn), The Netherlands